I recently visited West Los Angeles College (WLAC) during a visit by several of our overseas partners, who wanted to see a Qless queue management installation.
John Brock, Qless Head of Customer Experience and International Sales, was donning a Qless shirt, and immediately got stopped by a student to tell us how much he loved Qless.
Yet the really interesting thing happened next. Dawn, a second student, told us how easy she found Qless to use, and added that she typically found technology confusing. The reason? She had just emerged from 28 years in prison.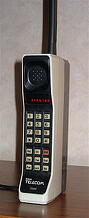 That means she missed every technology developed since before Apple's famous 1984 ad, or since the first 1G cell phone network launched. A time when phones had a talk time of just half an hour and took ten hours to charge. Talk about someone who appreciates the value of time and freedom! Indeed, at Qless, we measure our impact by one number: the number of years of freedom we've given back to our more than ten million users: 306 years and 24 days as of today while I'm writing this. You can listen to Dawn in her own words here.
So next time you get asked: "Do the people who don't have smart phones and/or aren't as tech savvy and/or just don't want to participate ever get upset because of their perception that people are then "cutting in line" in front of them?".
You can answer: "No. 100% of those queueing at a Qless establishment use Qless. No smartphone required –a text message or a call is enough. No phone required, either –Qless also offers tickets and Queue Monitors that keep people abreast of their queue status and wait forecast updated in real time whether they have a phone or not. There is no cutting the line: first come, first serve. No tech savviness required either –you can use it straight out of 28 years in prison."
Incidentally, WLAC went Qless after a short stint with a company that purported to be able to make a clone of our Qless software but whose text messages purportedly arrived a day late, among other problems. WLAC was able to repurpose their existing kiosks and LCD displays to run Qless on them, as you can see below –they improvised by slapped a Qless sticker on them!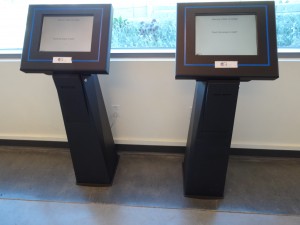 P.S. Special thanks go to Dawn for sharing her inspiring story of never-ending education. We thanked her afterwards by offering to give her computer lessons at our offices to help her in getting adapted to the world in 2013, which looks like nothing like 1984 –just like 1984 was, indeed, nothing like "1984".
Almost empty Qless waiting rooms at WLAC -just-in-time student delivery: