Weather across the country has been unbelievably cold with the exception of California, home to Qless headquarters. There are lots of jokes that have been made about the disparity and our comfortable (no pun intended) state. It's hard for us to wrap our heads around those negative temperatures even when we see the pictures and videos of waves freezing as they grow up a lake beach. But this week, Alex and a few of our team members are in Michigan for an important event. As Alex sat in the airplane, we looked up the weather and saw 11°F(-11°C) was awaiting him, a stark contrast from our 80°F(26°C).
A few hours later, in the middle of an actual winter, he already has a story to share with us and a new company policy. The story of Malik and Sandra reminds us that even in freezing temperatures, there are still people on the streets living in those climates trying to get back on their feet.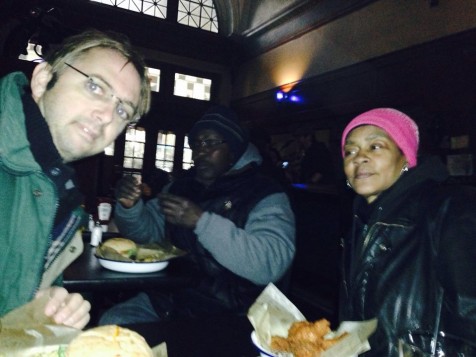 Alex, Malik and Sandra at dinner
Malik and Sandra have been married for 7 years. She ran a restaurant for twelve years before the German owner moved to Florida -can't blame her seeing as it is zero degrees Fahrenheit, minus 19 Celsius here tonight in Detroit. He used to work at an auto parts assembly line before the jobs got sent to Mexico in 2010. Their house got foreclosed, and now they are homeless, working part time jobs every day the temp agency finds them one. I know they are honest, because I trusted them with my iPad and it went nowhere. The streets are too cold to sleep in. The shelters, they say, are full of bed bugs and thieves. So they have been staying at a downtown hotel for $44.50 per night -the weekday anniversary special for room 10. They asked for help for food, so I invited them for dinner with me. For the price of a dinner for one elsewhere, the three of us ate a meal at Foran's Grand Trunk Pub, and there was enough chicken left over that Sandra saved it for breakfast. I told them they'd be better off looking for jobs anywhere but Detroit, and told them what the top ten job markets in the US are today. They knew where every one of those is, so clearly these folks are not ignorant. They are willing to move, if they can get a job and the bus fare -$165 per person to Oklahoma City, which has the highest number of jobs per capita in the country. They make only $40-$60 per day on the days they find work -below minimum wage and barely enough to pay for that night's roof. All they want is a stable job. Will you help me help them find jobs? Please share. You can send any job tip to careers@qless.com and I will pass them on to Malik and Sandra. Thanks! For my part, I am instituting a new policy at Qless: the company will always pay if you invite a homeless person to share your meal. As for Detroit, its motto, emblazoned on the seal at a nearby sculpture and dating to an 1805 fire that destroyed early the entire city, has seldom been more appropriate: "Speramus meliora, resurget cineribus". We hope for better things; they will arise from the ashes.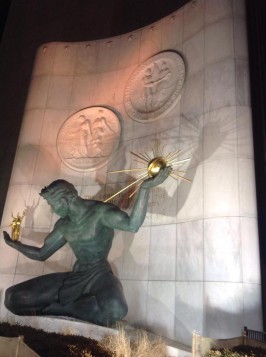 Statue with Detroit's Motto "Speramus meliora, resurget cineribus". We hope for better things; they will arise from the ashes.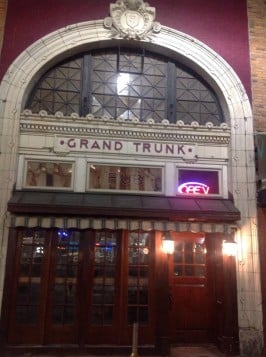 Foran's Grand Trunk Pub