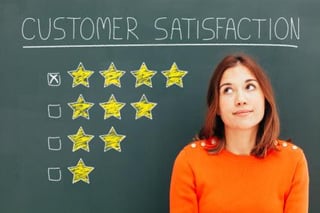 Customers – even the most enthusiastic, brand-loyal customers – will only tolerate poor service for so long before they become ex-customers, and often enthusiastic ex-customers at that, willing to tell anyone with an eardrum about their inglorious experience.
All it takes is a long line at checkout, a disengaged salesperson, or a stick-to-the-rules-at-all-costs mentality for a customer to abandon your business and head for the exit. Knowing what compels customers to walk away will prepare your staff to never commit these blunders.
We put together the 5 things businesses should never do. Top on a customers' "I'm-out-of-here" list:1. Make them wait. People generally understand that there will be a short wait to pay for their items; what gets under their skin, though, is when the wait is longer than expected, when they perceive that people who have waited less time are served first, or when employees are seemingly standing idly while the lines grow longer. Instead: use a one-line-serves-all queue system, or invest in new technology that allows customers to be assigned a time to come to the counter with virtually no wait.
2. Expose them to rude salespeople. Floor staff should never have a personal conversation with a co-worker, eat or drink around customers, complain about bosses or gossip about coworkers, or blather on about their life. And businesses should never keep an employee who comments on a customer's appearance or choices. Instead: train salespeople to be polite and engaging, but to keep the chatting to a minimum.
3. Make them serve themselves. When a customer asks, for example, about the location of an item they're looking for, the last answer they want is "I don't know," or an arm waving in a general direction, followed by a mumbled "It's over there." Instead: train employees to seek out an answer and always walk with a customer to locate the item.
4. Stick to the rules, no matter what. Unsatisfied customers simply don't want to hear "Sorry, we just closed for the night" or "there's a no-return policy on that item" or "all sales are final." Instead: if it's between bending a rule or losing a customer, a business has to be flexible.
5. Be elusive. Customers should be able to reach a business easily to get their issue resolved. Simply slapping FAQs on your website or requiring them to jump through hoops to reach a live support person is not the answer. Instead: invest in quality customer care.
The bottom line: always look for an opportunity to impress your customers – they will become loyal and raving fans.