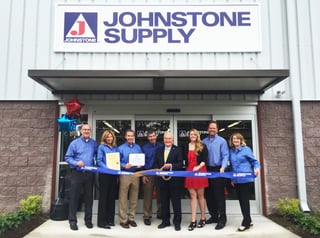 Johnstone Supply – a wholesale HVAC supplier with over 400 stores across the US States – is the top cooperative wholesale distributor in the country and a recognized national leader in the HVACR industry.

Despite getting a lot of walk-in business from HVAC and construction professionals, customers often neglected to browse the store's 1,500 square foot showroom because they wanted to secure their place in line.

To address this issue, store manager Jake Bishop sought a solution beyond outdated take-a-number systems. While researching virtual queuing solutions, Bishop found Qless. After a swift and smooth implementation process, Johnstone customers are deeply attached to the Qless system, which not only makes shopping easier and less stressful, but also provides invaluable data for the company to use.
Challenge

When his branch of Johnstone Supply needed a remodel, Jake Bishop and company, "pumped over $100,000 into updating our showroom, offering a strategic new layout of items." In spite of these improvements, staff found that this upgrade and store rearrangement was not accomplishing what they had hoped in terms of sales revenue. Customers would ignore the well-crafted displays and chances to browse the showroom by rushing to the service line and waiting their turn to be helped. Instead of an inviting and profitable showroom, Johnstone Supply of Salt Lake City had a very expensive waiting room.

"We asked customers why they weren't browsing the updated showroom," said Bishop, "and learned that they didn't look around because they didn't want to lose their place in line." Because the showroom used a physical queue, customers who left the line to look at new products would lose their place and waste more time waiting. If Bishop and his coworkers didn't find a solution quickly, their expensive remodel would have gone to waste.

Solution

Bishop knew immediately that he, "didn't want to offer an outdated take-a-number system." These sadly ubiquitous ticket machines do nothing to predict actual wait times, encouraging walkaways and offering staff no real aid in anticipating customer needs, all while wasting paper. "I wanted something more, something personal and automated."

Bishop searched for virtual queue options where his, "customers could wait in a virtual line and continue to browse the showroom." Luckily, his search began and ended with Qless. "Qless was exactly what we were looking for." After a demonstration of the Qless platform, he signed up immediately, not needing to evaluate any other systems.

The installation process with rapid and easy, immediately saving customers time and helping the Johnstone Supply staff see their expensive showroom start paying dividends. Once signed into the Qless system either remotely or from an in-store kiosk, customers receive wait time updates on their mobile device and are able to move freely including within the store to check out the new displays and make more purchases.

Results

With Qless, Bishop and his coworkers have noticed a substantial trend toward improved business. "We've seen a 10% increase in year-over-year returns in terms of dollars per invoice since deploying Qless," said Bishop.

Qless also helps Johnstone Supply improve its own performance as much as it set customers free to browse. By tracking actual wait times, Qless helps monitor and improve the staff's ability to quickly and efficiently service customers.

"I like to know what the target is and what the actual result is," said Bishop. "Qless offers the ability to measure and track that data as well as improve upon wait times, so I put a scorecard out every single day to encourage staff to beat the daily targets."

Likewise, Qless virtual queues allows employees to know whose turn is approaching and the purpose of the visit, helping to prepare for each customer more thoroughly and personally – not to mention keeping queues clear and giving customers time to browse.

"Our staff and customers love Qless," Bishop continued. "Customers like that they can roam freely. When you're standing in line, 2 minutes can feel like a long time. Now that customers are not confined to the waiting area, they can browse the store, add items to their purchase, get a donut, peruse our catalog. Since the time spent waiting is productive and satisfying, less time is wasted standing around. With Qless, time in line feels faster."