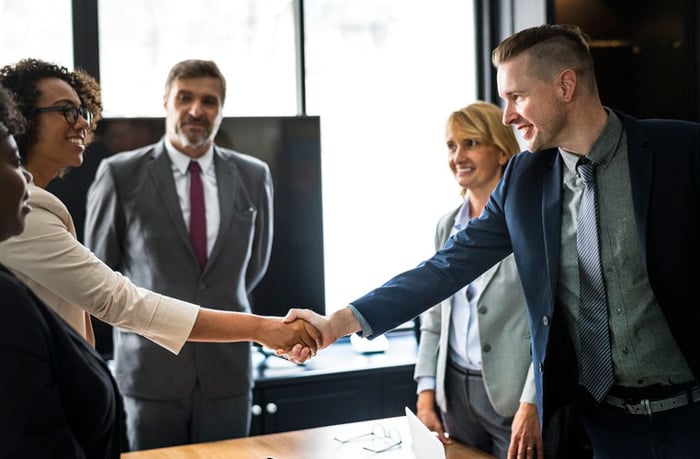 Business partners shake hands
Government customer service is much like customer service in any other industry, but it's held to a slightly higher standard. You can understand why. Tax payers visit the courthouse, the Department of Motor Vehicles, their town hall, and countless other agencies. The money that taxpayers pay out raises their service expectations. Government offices on city, county, state, and federal levels can all benefit from offering a higher degree of service to citizens. It isn't difficult and doesn't require additional training or costly upkeep. Qless has apps and software systems that not only streamline day-to-day operations, but that also encourage active engagement between customers and employees. The reputation that government agencies have of being inefficient and slow-moving is unnecessary. It tends to keep people away from services that they genuinely need. Opting for a queueless way of life is an essential step in changing the way customers view the government.
Giving People What They Want
If only government customer service was as easy as giving people what they want. To a degree, however, that is possible. As millennials and younger generations come of age, business operations will have to shift–including government businesses. Millennials want to book appointments online or via an app because it's convenient. They love virtual lines that free them from sitting around waiting in a line, lobby, or waiting room. They're familiar with cloud-based platforms and appreciate what they do, too. Send them a text instead of calling them, and they won't mind learning that the office is behind schedule and the agency needs to push back their appointment. Modern conveniences like these are small, but they have a tremendous impact on customer satisfaction.
Organization as a Touchstone
You don't have a chance of satisfying your citizens if your office is unorganized. Qless systems help to maintain organization from open to close. In addition to accepting appointments and ensuring customer flow, scheduling apps and software reveals details about incoming visitors. Knowing what the next citizen needs, even if it's just at a glance, allows employees to help every person faster without being impatient or rushed. Qless systems increases preparation for appointments and, as a result, appointments go smoothly each time.
The Ability to Accommodate Everyone
Appointment setting software also makes room for latecomers and walk-ins who didn't schedule a meeting prior to their arrival. It's true that the software prioritizes folks who book an appointment and show up at the appropriate time, but it can still accommodate other people. The scheduling system places people in the available time slots. There's no first-come, first-serve basis, but neither do you have to turn away citizens who need your services. Just mention that they have the option of reserving a slot ahead of time. They may exercise the choice the next time they visit your agency.
Transparency about Everything
Schedules don't always hold the way you hope. People fall behind, meetings run long, and schedules change. That's especially true in government sectors, where documentation and paperwork can sometimes cause a snag. The nature of the work also requires a keen eye and attention to detail. The point is that it's impossible to stick to every appointment.
But getting off schedule angers people. No one enjoys showing up on time only to be told that they have to wait a little longer. They booked an appointment for a reason. With Qless, you can mitigate that anger. Visitors are in a virtual line. If it looks like no one will be available to take an appointment, the system alerts customers about what's happening. In fact, you can send updates all the way to the time of the appointment. The visitor may decide to come another day, but they'll be grateful for the notifications that keep them from arriving at the government office and losing precious time.
Back-and-Forth Communication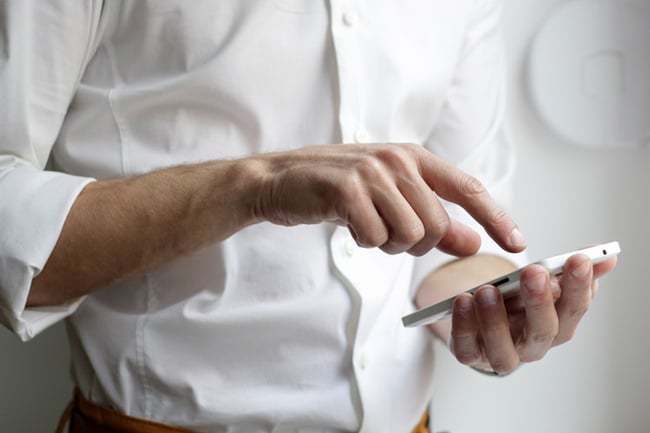 A man uses a smartphone
Communication is a crucial component of government customer service. Citizens often complain that they can't reach anyone at the agency they need, or that no one's assisting them in a way that actively helps. Incorporating a queueless system allows citizens to reach out to agencies and employees. For example, they can text, call, or email to cancel or change an appointment. Even if they're just running late, they can send a message to the government office where an employee can make note of the delay and adjust the schedule.
Creating Goals and Service Standards
Government customer service is substantially improved when standards and protocols are in place. Consider using Qless to set service goals. For instance, utilizing the scheduling software, an agent can try to see at least two dozen citizens throughout the day. Alternately, the office can work on efficiency by setting goals that pertain to the amount of time spent with each visitor.
Tracking Behaviors
On that subject, the scheduling system tracks the behavior of the people who use it. Analyzing data can reveal the perfect length of time needed to adequately help a visitor without wasting time. Remember that the more citizens you see, the happier they'll be, provided their appointments take place on time with friendly, helpful staff members.
The Qless platform can reveal information about walk-ins and no-shows. Find out how to inform customers about their ability to book appointments. Pinpoint why people don't show up in spite of email and text reminders. Keep an eye on complaints and solve them as they occur.Changing government customer service standards is as easy as paying attention to the citizens who come through the door. People have been complaining about long wait times and inefficient standards at government agencies for decades. It's time to incorporate changes that make a marked difference. Choose a modern approach to strengthen your reputation for customer service. Show the citizens of your community that you hear them and that you've prioritized their needs.