Hello world! It's been a while since I posted on our blog. We've been pretty busy cranking out new features for you, and building a world-class support organization. But I wanted to share some thoughts about Qless Support with you today.
We have a survey that we send out in every customer communication, and have been gathering results over the past 4 months. One of the questions that we include on the survey is "How does the support that you receive from Qless compare to other companies that you interact with?" Here's how our customers have answered that question: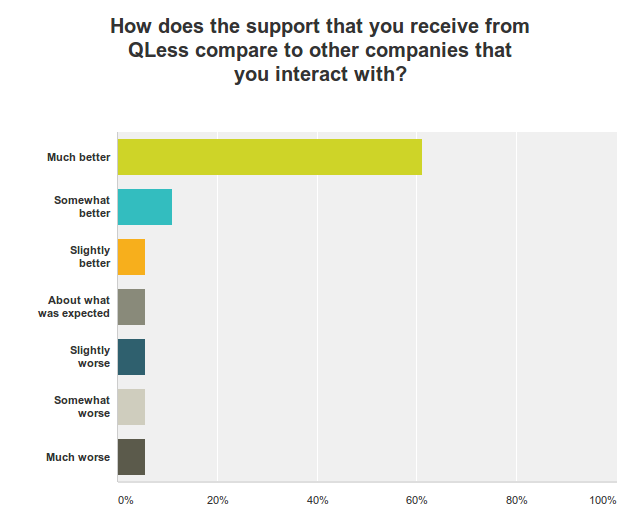 You can't please everyone, but these results pretty clearly show that Qless Support is head and shoulders above what you'll find from most companies' support teams. Or, in the words of one of our customers:
I've done lots of IT implementations; the odds of getting responsive service like this are similar to the odds of winning the lottery.
On top of that, we are honored to have been nominated for Front-Line Customer Service Team of the Year by the 2014 American Business Awards.
Qless offers 24/7 support by phone or e-mail and a 99.9% up-time guarantee. We've doubled the size of our Support team in 2013, and we're still hiring. We have a lot of improvements planned for 2014, and won't rest until we are consistently amazing every one of our customers with the level of support that they receive.
–Tim
Chief Technical Officer, Qless