Though people may have disappeared from the streets, parks, restaurants, and all non-essential businesses, at least one thing has not disappeared: wait times for people at essential businesses. During this pandemic, customers' waiting experience is no longer just an inconvenience; it also causes anxiety, as they worry that the people waiting in line with them could be carriers of the coronavirus. While many stores have placed markers to guide customers to stay at least six feet away from one another, waiting in line at the grocery store, waiting for an appointment at the doctor's office, and simply passing by people in the gas station is nerve-wracking. Luckily, Qless offers technology to make flex appointments and improve waiting experience simply using mobile phones.
Industries that Can Benefit from Qless Flex Appointments
Healthcare
Healthcare businesses are crucial during this time to treat those suffering from COVID-19 and other illnesses and special needs. However, these businesses face tough challenges. They need to adapt to create safe atmospheres for both patients and employees. That means shutting down traditional waiting rooms and opting for a safer method that observes social distancing measures. The Qless flex appointments system is the perfect answer for minimizing direct patient-to-patient and patient-to-employee interaction.
Remote Check-In for Healthcare
Using Qless flex appointments, patients can schedule their non-emergency appointments using the company's website or an app on their phone. They can also do this for scheduling follow-up appointments so there is no need for additional face-to-face interaction with employees. Once scheduled, the Qless flex appointments app will confirm the appointment, send them additional notifications and directions for remote check-in, and let employees send custom messages directly to patients. Qless flex appointments also seamlessly integrate walk-in or emergency needs with already scheduled appointments. Medical facilities can opt to use a physical kiosk where patients can check-in, or they can remotely check-in through the app.
The system lets patients wait anywhere outside of the healthcare facility for the safest options when practicing social distancing. They can easily wait in their vehicle, creating a secure and private zone for each patient, no matter what their needs. It creates a healthier atmosphere for both patients and employees, which will remain beneficial even after the pandemic has subsided.
Veterinarian Clinics
Let's not forget about our four-legged friends! Pets will continue to need care for routine and emergency needs as they always have. The waiting experience at a vet's office during the pandemic would be just as risky as any other healthcare business without Qless flex appointments. Qless flex appointments can reduce interaction between employees and pet owners, keep pet owners out of waiting rooms, and even cut the amount of time people and their pets are kept waiting. Some experts have suggested that pets can contract or pass the virus to people, so it's also best to be on the safe side and social distance ourselves and our pets from others as well.
Banks
Financial institutions are another prime example of businesses where Qless flex appointments can be used to remotely check-in customers who need to open and close accounts, take out sums of money, discuss loan options, and other financial needs. Without Qless flex appointments and with the social distancing measure of maintaining six feet between each person, you might end up seeing the lines on payday stretching around the building and through the parking lot. The Qless system features allow bankers to use a real-time dashboard to manage customers and see what each individual needs to accomplish while at the bank. Customers can make their appointment from the comfort of their home using the company website, remotely check-in for a walk-in appointment from their car using the app, or join the virtual queue using a kiosk.
Auto-Repair Shops
If your vehicle has to break down, it's likely to happen at the most inconvenient time, like during a pandemic. The Qless flex appointments system can easily schedule customers for repair needs while creating schedules with minimal gaps and downtime. As with other industries, walk-in customers can easily be fit into the existing repair schedule. And while customers don't have the option to wait in their vehicle while it's being repaired, they can still avoid a crowded waiting room by arranging to be picked up, waiting at a nearby local business or park, or simply waiting outside in the fresh air. When their vehicle is ready, the mechanic can send a direct message alerting them to return.
Queue Management for Other Essential Industries
In addition to Qless' flex appointment feature, we also offer a queue management option for businesses that generally don't make appointments. These essential industries include grocery stores, pharmacies, hardware stores, post offices, pet supplies stores, and other businesses. In the same manner as walk-in appointment makers, customers can join a virtual line through an app or a kiosk and wait wherever they want until it is their turn for service. That gives customers the option to social distance while continuing to shop or wait outside for services.
Data and Analytics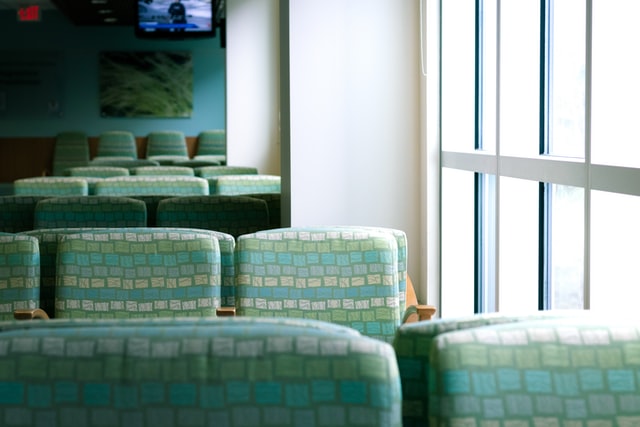 Businesses get extra benefits from the Qless system, which includes powerful data and analytics for business operations. The data is gathered into easy-to-read reports and graphs that feature customer satisfaction details, transaction types and times, no-show and walk-in rates, and other outcomes. Owners can use this information to improve their services and even create tailored promotions for their customers.
The Qless system doesn't need any hardware, and it is easy to get up and running fast. It takes as little as two hours to virtually train employees to use the software. Customers love its simplicity and effectiveness at creating a better waiting experience and a healthier environment when the need for social distancing is at its highest. Qless is a technology that benefits businesses well beyond a time of pandemic. Request a free demo today, and let us show you what Qless can do for your business.