I can see it now…soft mood lighting, clinking glasses, a waiter pouring a tasting of the wine you requested when you made the reservation 3 months ago.
Wait…
That's not what it's really like is it? You forgot that Valentine's is just around the corner despite all the stuff at the grocery store in pink and red. I mean, if you don't have the day off, why else would it be on your mind? And then it arrives and you're at work thinking, "What do I do? I mean s/he says it's not important, but if I come home empty handed, it's not going to be pretty."
The quickest solution? Call Luigi's and reserve a table. Run to CVS and get some chocolates then flowers at the florist! It's all going to be okay. It's traditional.
The five o'clock bell whistles, you dash off to the store and grab the last box of chocolates, but it looks like you're a little late. There are no half decent boxes left so you frantically come up with a new strategy. Combing through the Valentine's Day display, you create the best Valentine's basket you can. Maybe you'll just call it ironic.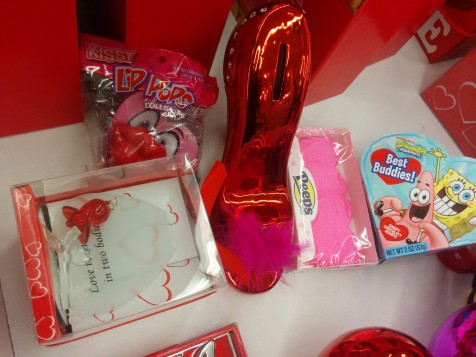 The clerk said s/he would love it.
You get to the register…with a line of 10 people deep, most of them with slightly dinged boxes of chocolates. Except for the first guy – he left work 30 minutes early to get that. You wait for everyone to make their purchases and 10 minutes later you're running to the florist's. Along with the guys that just bought chocolate before you.
When you arrive at the florist, there are about 14 people in front of you milling around the front counter. Everyone's looking for a dozen roses for $50. For an extra $20, you can get gold glitter dusted ones. Nah…the regular stuff's good enough.
Or so you think. You've waited 30 minutes for the two florists to help the 14 people in front of you, carefully selecting and wrapping those roses. And there was that one person that took the amount of time that 2 others did, deciding if he should add baby's breath for an extra fiver.
It's finally you're turn. Hmm…they're out of the good red roses. Well they're out of the ones that haven't been lightly glazed with the gold glitter that will make your significant other's eyes sparkle. Oh and you might as well kick in the baby's breath while you're at it.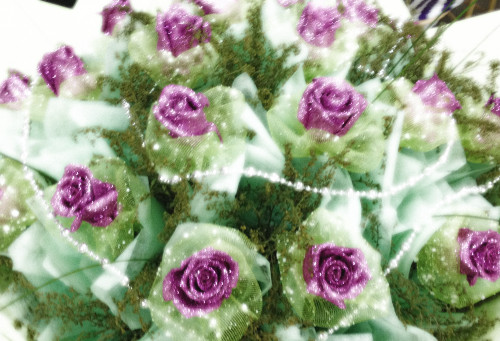 Enough said.
If you rush, you can make it home by 7p, but you'd break a couple of laws if you did that. By the time you get to the restaurant, showered and combed, you're 40 minutes late for the reservation. They gave your table away…but if you can wait, something will open up at 9.30p.
At the end of the night you're happy that things went well enough, but you're wishing that a hole would burn through February 14 on all calendars going forward. Two hours of standing around and waiting wasn't your favorite way of spending an evening. It's always worth making your date happy, but it could have been better.
You could have gotten in line for the florist before you left CVS. You could have tracked your restaurant reservation by SMS and pushed yourself back with a text to get there just in time…you might have even been on time if you hadn't had to wait at the florist. In a Qless world.
Happy Valentine's Day!!