Just wanted to share a Letter to the Editor of a newspaper that was forwarded to us here at Qless. We've redacted the pieces that identify which DMV is involved, so as not to exacerbate the situation. But it's great to hear that concerned citizens, when faced with long waits imposed on them by their local government, are speaking out and telling them to get Qless to respect their time!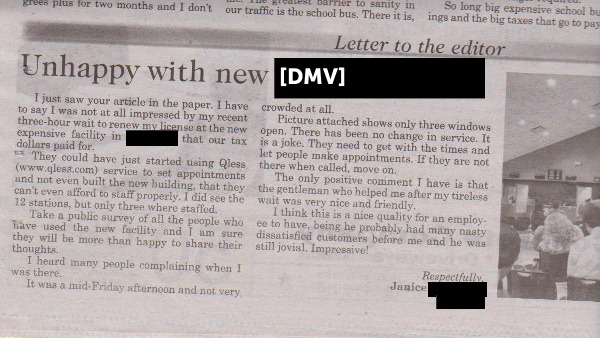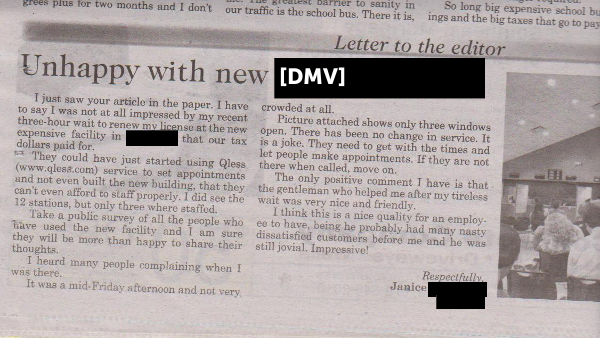 Text of the Letter follows:
Unhappy With New [DMV]

I just saw your article in the paper. I have to say I was not at all impressed by my recent three-hour wait to renew my license at the new expensive facility in [redacted] that our tax dollars paid for.

They could have just started using Qless (www.qless.com) service to set appointments and not even built the new building, that they can't even afford to staff properly. I did see the 12 stations, but only three were staffed.

Take a public survey of all the people who have used the new facility and I am sure they will be more than happy to share their thoughts.

I heard many people complaining when I was there.

It was a mid-Friday afternoon and not very crowded at all.

Picture attached shows only three windows open. There has been no change in service. It is a joke. They need to get with the times and let people make appointments. If they are not there when called, move on.

The only positive comment I have is that the gentleman who helped me after my tireless wait was very nice and friendly.

I think this is a nice quality for an employee to have, being he probably had many nasty dissatisfied customers before me and he was still jovial. Impressive!

Respectfully,

Janice
If your government, or any business that you frequent, is wasting your time by making you wait, we encourage you to do the same as Janice, and let them know that there's a better way! Qless Mobile Queuing lets you hold your spot in line using your cell phone, and get a text message or phone call when it's your turn to be served. You can wait however and wherever you want!
Thanks Janice. We hope that we can help make a difference for your next trip to the DMV. We won't rest until we've accomplished our company's mission of eliminating waiting in line!
–Tim