It's day 2 at Comic-Con. Pictures are crawling into my Facebook feed. News articles are rearing their heads. I should be there, but I'm at work…not because I couldn't get the time off if I had the chance. I'm not there because I don't know if I could deal with paying to stand in lines much of the time, the massive crowds and the rabid fandom.
But if you're a nerd, geek, dork who loves a comic, animation, video game, a sci fi/fantasy novel/show/movie, this could quite honestly be paradise. The exclusive swag alone has everyone going crazy. This four day event is estimated to produce $163m in revenue for the city of San Diego. That means each attendee spends more than $1k for the extended weekend not including how much is spent in the exhibit hall which houses the vendors selling almost every kind of memorabilia and knickknackery possible. Getting into the hall can be a problem, too. Many of the more than 100k attendees save up their pennies to go wild in the hall. So you're competing with them to get into the hall, line up at the booth and get your goodies before they run out! People map out where the booths are, what they're selling, which items are priority and the probability of it running out versus how much you want the item.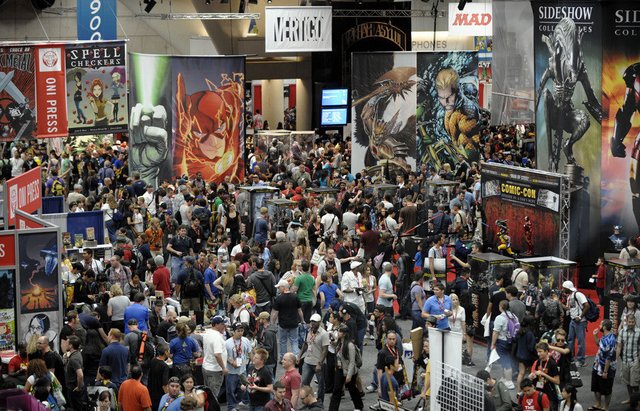 And despite having badges, people line up at 6.30am to get in the doors. The most popular panels have fans sitting in front of doors a day in advance. While I can't blame them *coughbenedictcumberbatchcough*, it's hard to imagine having to deal with it. More than 100k attendees flock to this conference and it's one of the largest in the world. Tickets sell online and are gone within minutes.
Here's one woman's guide to dealing with the difficulties of Comic-Con. She mentions that you might wait 8 hours to enter certain popular events and my favorite: "The Exhibit Hall alone is 460,000 square feet. You might shuffle along in 2-mile lines, or need to run from Hall A to Hall H, or walk too many blocks late at night." Even if that's an exaggeration, I probably wouldn't be the best of company by the end of the day! It's so bad that the LINE of Hall H has its own Twitter account. Check it out: @HallHLine. Its tag?
I am the longest, nerdiest, most demoralizing line at any convention ever made and that's just how you like it. Come get in me.
And it's the mentor to: @Ballroom20Line who also claims to be the lines' competitor.
The second most demoralizing line at SDCC, rival of @HallHLine. Pucker up.
Each year I question, do I try to hit the button and get tickets that make Disneyland look like skipping through a garden? Seriously, though, they should hit us up to help alleviate those lines.
SDCC 2015!! Let's make it happen!!