On this Thanksgiving, we would like to express our gratitude for the honor of winning our second Gold Stevie® Award for "Best Computer Services Company of the Year" from the 2016 International Business Awards. This awesome distinction is a testament to the excellence of our entire team and our amazing partners.
And to thank our hard-working employees at Qless, we set-up an internal contest so that one of our employees could journey to Rome and accept our award. The catch? Nominees for the road to Rome were considered based on the "miracle"  they delievered to Qless. After a democratic vote across the entire company, we had not one, but two winners: Ammar Alsibai and Adam King were selected for inventing and developing a low-cost hardware solution for our customers. 
Check out their gracious acceptance speech!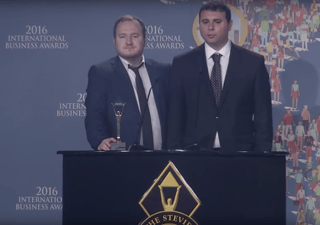 Thank you Ammar and Adam for representing Qless and accepting this presitigous honor on our behalf in the Eternal City!