Waiting in frustratingly long lines at the local government office is nobody's favorite way to spend the day. With other industries effectively converting to better practices when it comes to waiting in line, public services are swiftly following suit.
Think of all the services in our everyday life that we use where apps have decreased and effectively eliminated wait times during the busiest periods: restaurants, banks, hotels, healthcare clinics, educational institutions, retail businesses, and others. Now, think about all the ways that this kind of technology can be useful in other settings – including at your public government office.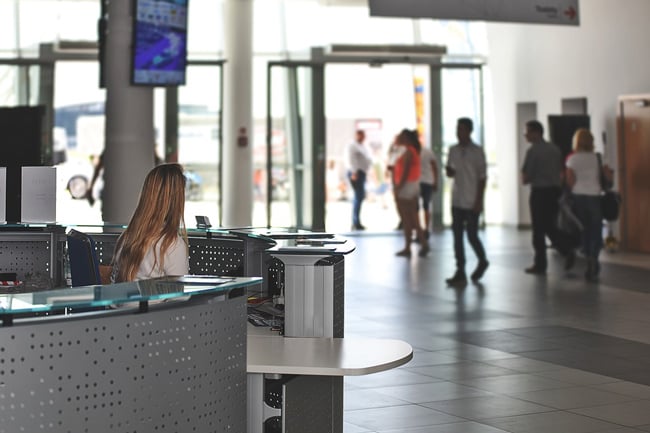 This queue has no wait times.
The time for taxpayers to reap the benefits of virtual queue technology has come. With the revolution already underway, expect your government office to run more efficiently and save money as they join life in the virtual line.
No More Waiting
From paying a bill at city hall to arranging license updates at the DMV, wait times can be frustratingly long as you try to squeeze in that appointment and then get back to work. Virtual queue technology at your local government office means it's simple to make an appointment in advance and walk right up to the counter during your break, with all the necessary documents in hand. It also allows citizens to:
Receive real-time updates about wait times via SMS.
Text back to request more time or reschedule.
Arrange appointments up to a month in advance.
Long waits and lines at the local DMV may soon become a thing of the past, causing many government offices to move toward using innovative technology to streamline their processes.
How Does it Work?
When time is wasted waiting in long lines, the economy suffers, productivity suffers. This outdated practice is now near an end, with virtual queue technology transforming the government office experience. Here's how using the system looks:
Customers join a virtual waiting room via a remote queuing app. This can be done from a phone or kiosk, for example.
Citizens are able to wait where they want while in the virtual queue–at Starbucks, at home, at the office–leading to a higher level of satisfaction with the waiting process.
A text or voice message system alerts customers as they move in the queue.
When your staff is ready to serve, customers are notified.
It's that simple. No more unexpected delays and a huge increase in satisfaction from staff and customers. And, with a reduction in crowding, expect the future of physical space to look a lot more downsized at your local office.
Reduce Cost, Increase Efficiency
Offices that run on taxpayer dollars are typically expected to provide top-notch services at reasonable rates. Any office will need to examine how introducing new procedures and technology might change operating costs. Now, with queue management systems, government offices will effectively boost operation efficiency by up to 90 percent. An effective system can:
Help eliminate no-shows and walk-outs due to long wait periods.
Estimate current wait times using cutting-edge analytics to keep things moving.
Allow self-service online, so that staff can focus on other tasks.
Utilize cloud-based technology that works easily from a computer, tablet, or cell phone.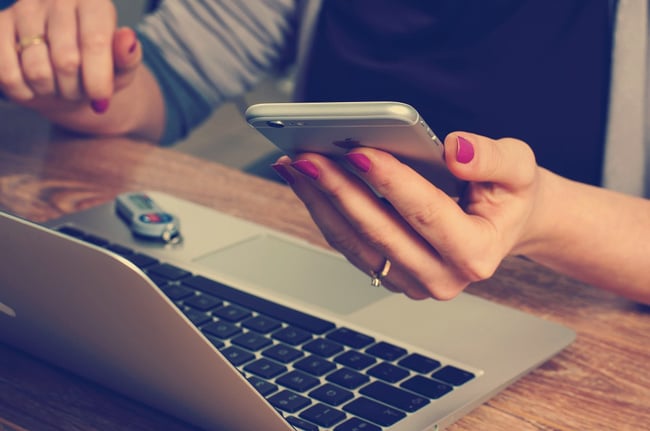 A woman checks her phone.
Implementing a virtual queue system costs surprisingly little, especially when all the benefits are taken into consideration. No specialized software or hardware is needed to get started. While a return on investment varies, users have reported up to a 600 percent ROI using Qless to reduce wait times. Use our simple and free calculator to estimate how much your office productivity could increase.
Communication
One of the greatest features of a virtual queue system is the ability for government staff and citizens to use two-way communication before an appointment occurs. Interactive communication allows your office to run seamlessly and gets citizens in the know.
Team member's meet in a conference room.
This innovative technology:
Allows citizens to request more frequent updates as needed.
Collects real-time feedback from customers to improve service efficiency.
Notifies citizens of what specialized documents may be required.
Government offices also benefit from detailed reports that analyze no-show rates, return rates, service duration, and the outcome of appointments. Expect to see more informed citizens and happier staff.
Job Satisfaction and Workplace Environment
Crowding can lead to a hectic and stressful work environment. Staff morale can suffer when dealing with customers who are unsatisfied and frequently demanding. Many of these incidents can be decreased or avoided entirely by adding transparency. Our goal is for customer expectations to match their actual experience. Virtual queue technology helps government staff:
Allocate needed resources more appropriately.
Avoid overwork by identifying increased volume times or gaps and effectively reducing them.
Increase the staff's ability to handle high-volume times in cases of emergency.
When customer satisfaction grows, staff focus and helpfulness also increases. Get ready to see how your government office is about to transform the customer service experience for the better.
Integrate Qless Now
With satisfied customers across 6 continents, Qless has an international lead in virtual queue technology, and it's easy to see why. Our online queue system is tailored to government and business leaders who want to transform their reputation for the better.
Our technology is available in the language of your choice.
You likely already have everything you need to integrate this cloud-based system.
We will help reduce wait times and complaints while boosting staff morale, service quality, and your online reputation.
Help revolutionize customer experience by implementing virtual queue technology in your office. Start by reviewing some of our success stories and requesting a demo to see how Qless is changing the face of government offices across the globe.