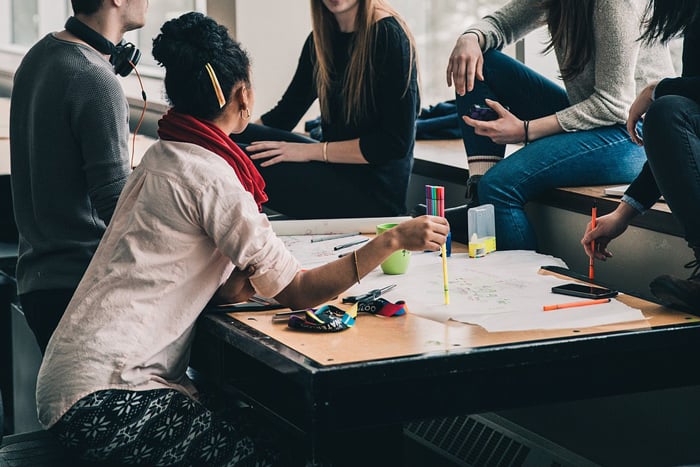 Students talk together by a window
Higher education institutions have made significant progress over the years by embracing digital transformation to increase efficiencies and deliver improved services and processes. One of the areas where colleges and universities have focused on is on queue flow management. It's no secret that long waiting lines within university campuses and busy colleges creates a lot of frustration for both students and staff alike.
From the registrar's office, library, counseling offices, retail points to health centers, queues seem to be a norm in higher institutions. The challenges related to an ineffective queue management process results in dissatisfied students, inefficient use of administrative resources, an increase in student dropouts, and lower productivity. Virtual queuing solutions like Qless can change this for the better.
Proving a simple queue management solution to streamline student flow effectively reduces and even eliminates long student lines, improves the quality of services provided, and reduces the ongoing costs associated with managing waiting lines across campus. This article takes a more in-depth look into why virtual queuing is a game changer for colleges and universities.
Effectively Manage Long Student Lines
Students expect to get high-quality services whenever they interact with representatives from their college or university, and they expect to get those services in a way that best suits them without wasting a lot of time. Unfortunately, student "hubs" such as the registrar's office, counseling offices, and libraries experience large numbers of students passing through, especially during peak times, such as course registration, class enrollment, exams, among others.
Higher education institutions serve many students in various locations throughout the campus any given day, and virtual queue management software is an important solution for ensuring that student flow is dealt with more efficiently and effectively. Queue management helps manage long student lines in three simple ways:
Students register via the college or university website, their phone, or an on-site kiosk for a place in the queue without having to wait in a long line. Instead, they can engage in other activities, like attending class, going to the library, or another place during the waiting period.
Once the students register their place in the queue, they can easily view their queue status on any device and see their queue number, how many students are ahead of them, and estimated wait times. Students get real-time updates of the queue progress and have the option to cancel the queue or re-queue themselves when something comes up at their own convenience.
Through the easily-accessible and personalized queue flow page, students get real-time alerts and notifications about their place in line as they move up in the virtual queue. This means they can arrive at the service point right on time before they're called.
By streamlining student queues, the administration can plan their workload more efficiently while preventing long student lines from forming. This means they can focus on serving and processing students more effectively while maintaining flow across all services points.
Customize Virtual Queuing for Each Department
While virtual queuing is a solution that works well across all departments in colleges and universities, it's not a one-size-fits-all solution. To make managing student flow even more effective with virtual queuing, queue management solutions can be tailored to fit each department's unique student service needs. Here are a few examples of how you can customize your queue management processes:
Collect Relevant Student Information Across Different Course Departments
Just like every department is unique in an organization, you'll find that the information you collect for students seeking services differs. For instance, information collected from the campus health center and the counseling department are entirely different. Virtual queuing software offers customization options to collect the most vital information to ensure the right services are offered to each student.
Place Students Across the Campus Into Appropriate Groups Where They Belong
For instance, you can have new students placed in a separate category as they are most likely going to seek more services across the various departments for orientation purposes. This way, administrators can now tailor services to meet the needs of each unique group.
Sort Students Across Every Department By Priority and Schedule Appointments Accordingly
Managing student flow with queue management and appointment scheduling solution results in a radical shift in the student service experience. With improved student flow, you get increased satisfaction by 20%.
Track Each Individual Student
With a customized queue management solution, you can easily track each student every step of the service process, from start to finish. This provides you with the data you need to assess whether students are getting the services they need in a satisfactory and timely way. You can also create reports that help you improve your virtual queue management process.
Optimize Student Service Efficiency
Colleges and universities are expected to provide premium-level services to their students across all departments while embracing user-friendly technology that ensures the very best service experience. Virtual queue management for streamlining student flow helps optimize the overall student service efficiency. A student's interaction with a higher institution's services can have a significant impact on whether they have a positive or negative perception of the institution.
That's why student satisfaction rankings are of so much importance to colleges and universities, and it's vital that every service interaction that a student has is as seamless and efficient as possible. The secret lies in implementing a virtual queuing system that helps improve service delivery while distributing responsibilities. This helps make day-to-day tasks much easier by:
Managing wait times and student appointments
Providing clear and accurate expectations for students
Signaling service staff when student arrive for appointments
Transferring students to other open queues when necessary to ensure faster services
Providing easy access to up-to-date information on any given student
Streamlining the student process flow during peak times via virtual queues
Maximize Your Administrative Efforts for Better ROI
Students work on a project
By implementing a virtual queue management solution, colleges and universities can significantly maximize their administrative efforts and boost operational efficiencies. In short, a virtual queue management software enhances processes on any campus location where students need to wait in queues to receive the services they need through the channels they prefer, such as their smartphone or laptop.
The efficiencies that result from eliminating long lines and improving services leads to improved ROI for higher institutions. Implementing this technology should be a priority for any college or university that expects to attract the next generation of top students.
Get Started with Virtual Queuing Today
If you're looking to implement the latest in virtual queuing technology for student flow management, look no further but the industry-leading Qless queue management and appointment scheduling software. Want to learn more? Contact us at + 1 (800) 405-4637 or request a free business demo now.