Navigating the college scene is complicated, from admissions to advising, financial aid, and even gathering the right supplies and textbooks. Students are suddenly thrown into adulthood where they need to:
Make their own appointments
Balance classes, studying, and often work
Create schedules
Figure out what they need to do to successfully land a career
With tons of other students competing for appointment times and utilizing the same college resources, even college faculty and staff can become overwhelmed. Missed appointments and long lines can cause students to fall behind and even drop out. Qless queue management educational software helps schedule appointments, fill canceled appointment spaces, and eliminate the lines and wait times.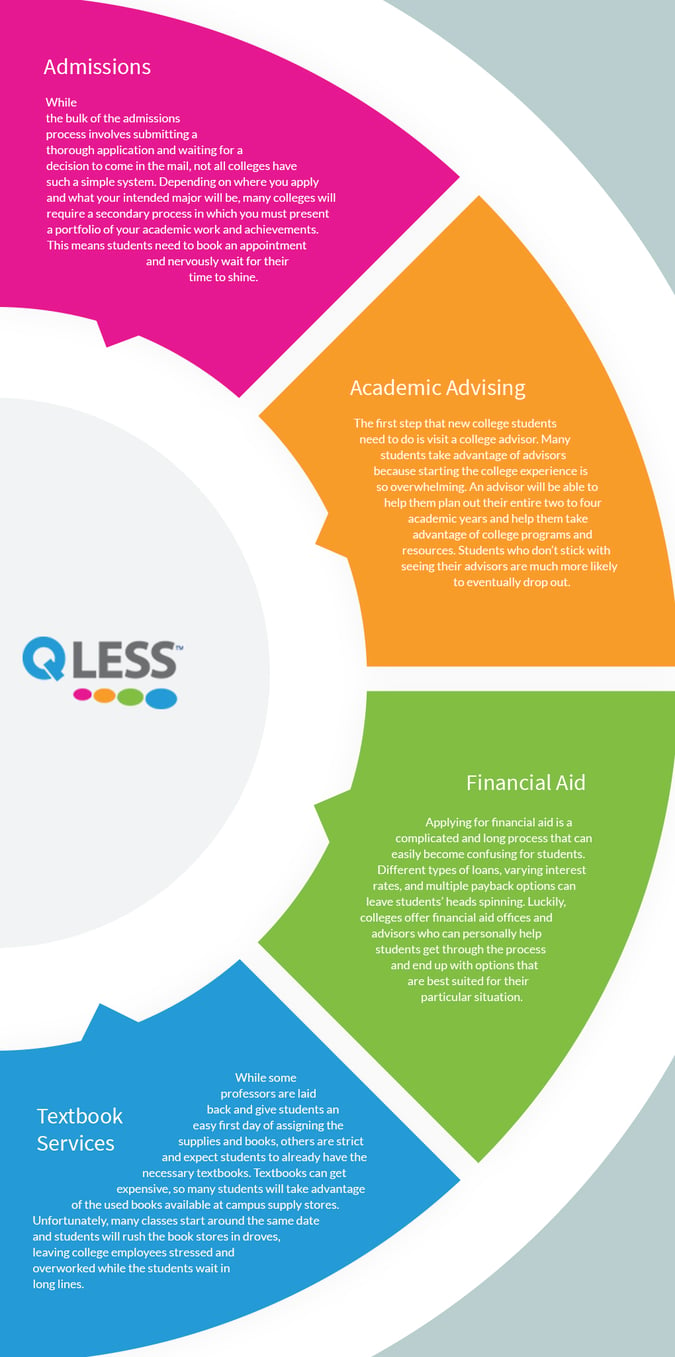 How Queue Management Educational Software Works
Students in this day and age love technology. Almost every one of them has a smartphone on them at all times and owns a computer to do their school work. The Qless queue management educational software works through an app, the school's website, or with onsite kiosks. Through these platforms, the students can easily make an appointment with an advisor, join a virtual line to get their textbooks or use it to enter any number of other queues around campus for various needs. Once they join a line, they receive voice or text message notifications that tell them their place in line and their wait time.
After that, students are free to go study, work on school projects, get a meal, relax, or whatever they want to do. There is no more wasted time standing in lines being unproductive with the queue management educational software. College advisors love it because students can more easily schedule an appointment with the software, and it also automatically fills gaps to best utilize the staff's time. When it is almost time for the student to be serviced, the app alerts them to head on over.
From Advising to Financial Aid, Students and Staff Are More Satisfied
Communicating with an advisor is one of the most important things that students should do when attending college. Unfortunately, busy advisor schedules and missed appointments can cause students to become discouraged, unsure of the best path to proceed with and drop out when things get overwhelming.
College advisors can also get frustrated when they have too little time, dropped appointments, and too many students to juggle. The Qless queue management educational software keeps students and advisors happy with easy appointment making, block filling, and rescheduling.
When students and staff are more satisfied with their college experiences, the schools gain a better reputation through good reviews, word of mouth, and online ratings. This helps bring in new students, creating more funds that can be used to expand the school and its student services.
Contact Qless today to request a free demo and find out more about how queue management educational software can benefit your institution.